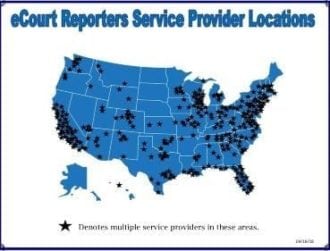 Direct National Scheduling
Finding available certified court reporters and legal videographers has become more and more difficult, especially when you want to know things such as pricing, availability, and experience. eCourt Reporters makes it easy to directly schedule a court reporter and/or legal videographer no matter where you or they are and under any time constraint.  For the attorney, this means you won't be paying any additional hiring fees.  For the court reporter/videographer, this means more money in your pocket. For the firm owner, overflow work can now be fulfilled. For the agency, this means your job is covered.
24/7 Booking
Our selection of court reporters and videographers across the country have their information and certifications on our site that includes their availability and areas of expertise so you know exactly the professional you're getting. Emergency scheduling makes it possible to schedule a reporter and/or videographer last minute. While it comes down to availability, eCourt Reporters can be booked in less than 24 hours.  You can directly contact a reporter or videographer whether you need them in one month or one day.  Scheduling last minute has no influence on price; however, canceling short notice will result in a cancellation fee.